Bistro de Umbelder
2017 — brand identity

A new French bistro in a historic building in the centrum of Weert. A beautiful challenge. Bistro de Umbelder is named after the man who's statue stands in front of the iconic building.

In the time when it wasn't common at all for people to be able to read and write, the 'umbelder' or crier told the news. This particular bellman became a historic figure in the small Limburgish town and he was known as 'de Umbelder'.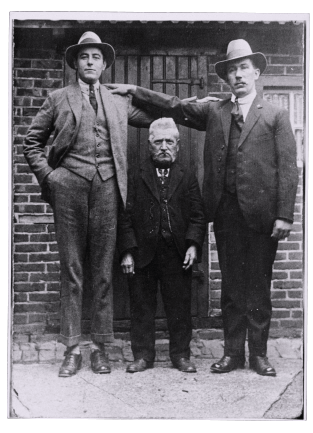 The character of the Umbelder was caught in a stylized line drawing portrait. A custom typeface was made and colours were taken from the pristine and wonderfully restored interior.
Very old pictures of Tieske the Umbelder and design styles from the time in which he lived became an inspiration for the new identity.
Nowadays you can read the latest news and enjoy the lovely breakfast, lunch, diner or drinks at this modern, casual bistro. Dishes and drinks vary from delicious comfort food to proper posh indulgence and the identity matches this perfectly. Down to earth paper with a touch of gold.
Like the real bellman, the bistro provides news and facts. Nowadays this is done by some proper social media channels with a recognizable grid and stunning images.